"Invader Crusaders" Awarded for Work on Invasive Species
Some familiar names to the lakes community and Wisconsin Lakes among the 2023 winners
By Wisconsin Lakes staff
Wisconsin Lakes congratulates all the winners of the 2023 Wisconsin Invasive Species Council's "Invader Crusader" Awards winners, and there are some familiar names from the world of lakes and aquatic invasive species management among them!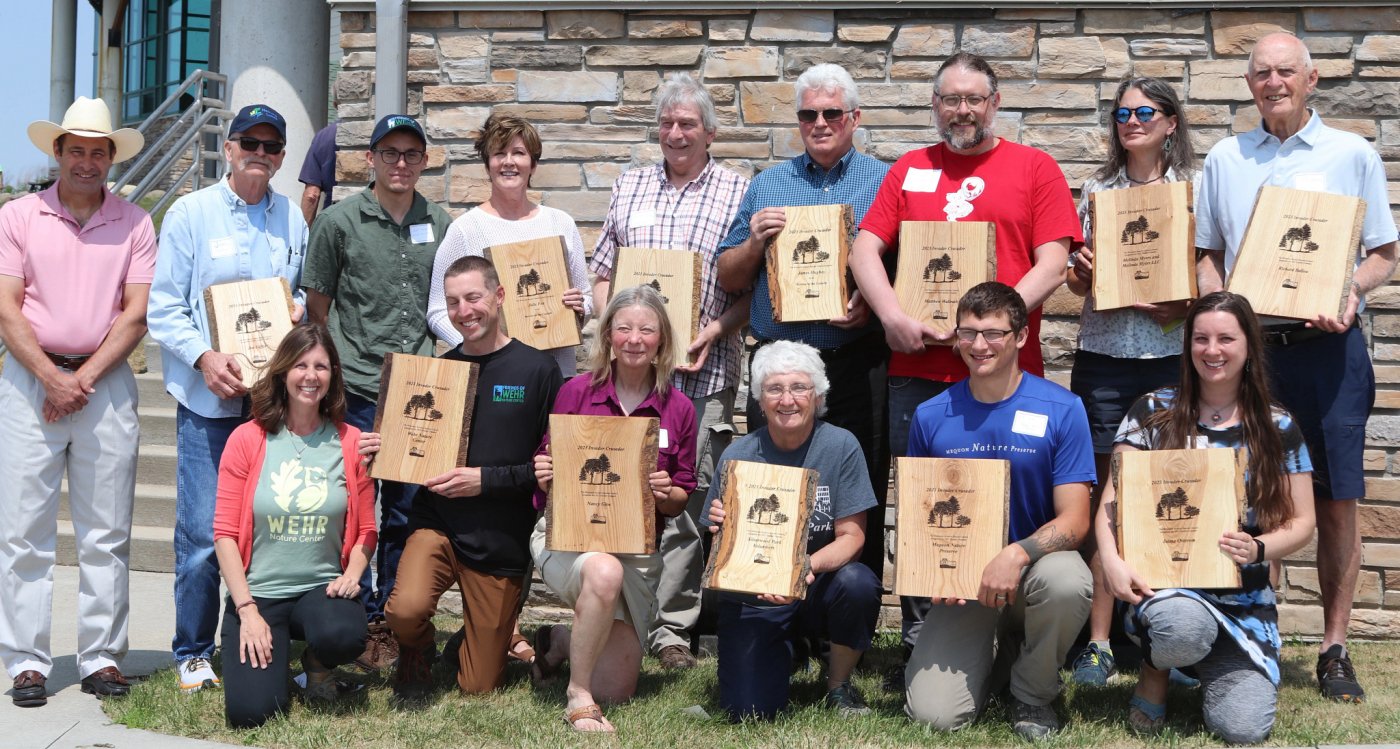 In the Volunteer Individual category, former WI Lakes director Jim Giffin was recognized for his work on Lake Minnesuing in Douglas County. In a press release, the Council says that Jim, "secured 12 different grants to fund invasive species control efforts on the lake and garnered cooperation from neighboring landowners and organizations. He has brought together a community around the lake to promote invasive species control and monitoring, as well as native landscaping and restoration."
Matthew Wallrath was recognized in the Professional Individual category. The Council says, "Through Matt's work with the Upper Sugar River Watershed Association and the South Central Invasives Partnership, he has helped inform thousands of people about the impacts of invasive species, control methods and ecology in general. He works tirelessly to make a difference on the ground and in the classroom, and his impact has reached throughout the state." And we've just heard work Matt's started a new role as Wisconsin First Detector Network Coordinator with UW-Madison. Double congratulations, Matt!
The Wisconsin Invasive Species Council honors individuals, groups, or organizations who have made significant contributions to prevent, monitor, or control invasive species that can harm Wisconsin's ecosystems, economy, and, in some cases, public health each June as part of Invasive Species Action Month.
All of the winners in 2023 included:
Professional Individual Category
Jaime Osterom
Matthew Wallrath
Mic Armstrong
Volunteer Individual Category
Jim Giffin
Nancy Gloe
Richard "Dick" Ballou
Professional Group Category
Melinda Myers, LLC
Mequon Nature Preserve
Volunteer Group Category
Friends of the Manitowoc River Watershed
Silverwood Park Volunteers
Wehr Nature Center
Special Recognition Category