Lakes & Rivers Convention Early Bird Deadline February 28!
Registrations for the Wisconsin Lakes & Rivers Convention, April 19-21 in Stevens Point, are flying in! Don't miss out on the 20% early bird deadline. It ends February 28!
By Wisconsin Lakes & Extension Lakes staff
The Wisconsin Lakes & Rivers Convention is back again for 2023, this year April 19-21. The gathering of over 500 lake & stream lovers – from private citizens to government & state agency officials to academics – will convene at the Stevens Point Holiday Inn & Convention Center for three jam-packed days of workshops, field trips, engaging talks, thought-provoking discussion, networking, and fun.
This year's theme is "Building Trust Around Water Together"
Trust is an important part of our everyday lives. We usually have trust in our family members, friends, neighbors, health care professionals, teachers, and so many others in our communities. Trust is something that is earned and is also something that can be lost.
During this event, we invite you to build new relationships with individuals, groups, businesses, and organizations. Let's cultivate trust together so we can better collaborate and cooperate around the lakes, in our watersheds, and across Wisconsin. We also invite you to explore Wisconsin's unique Public Trust Doctrine, based on our state's constitutional provision "that navigable waters are held in trust by the state for the benefit of the public."
This year we'll be joined by invited guests EPA Division 5 administrator, Debra Shore; WI Dept of Natural Resources Secretary Adam Payne, and Dr. John Francis, Planetwalker, along with numerous other presenters. Check out the agenda and more at the Convention website.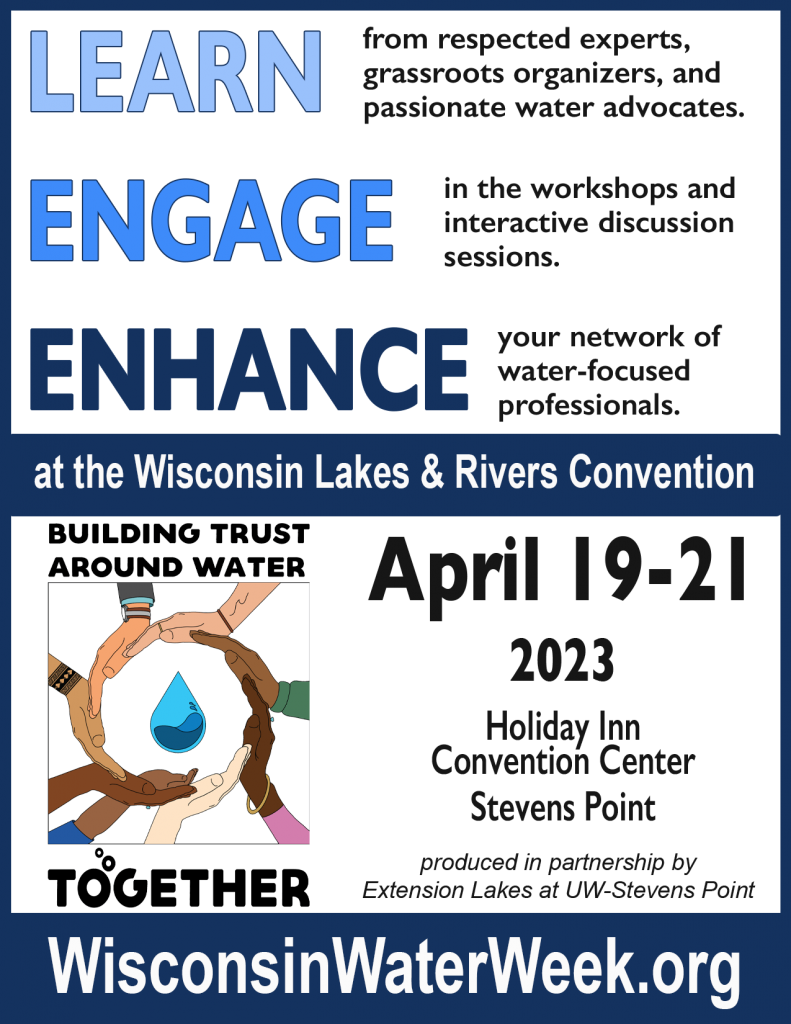 This convention is part of Wisconsin Water Week and brought to you by the Wisconsin Lakes and Rivers Partnership.