Reflecting on a traditional Thanksgiving berry from Wisconsin
In November's "Water Column", Diane Daulton reflects on the cranberry
Today we share Diane Daulton's "Water Column", a monthly essay on water and Wisconsin. Enjoy!
Diane is an independent author, naturalist/educator and lake and stream advocate.  She can be reached at dianaenplaya@gmail.com.
Shortening days are one of the many reminders that the seasons are marching on. White-tailed deer are munching on leftover Halloween pumpkins as November's crisp cold air crochets crystalline lattices around lakes and ponds. While planning for the next holiday, may we suggest a healthy dose of trivia on a favorite little wetland gem? Needless to say, no Thanksgiving spread would be complete without cranberries; they are both beautiful and pretty amazing little berries.
Cranberries were first named Crane-berries for their blossom's resemblance to the neck and head of sandhill cranes.

In Wisconsin we may be more aware of where cranberries actually come from (not just from the can) as they naturally occur in wetland bogs and are commercially farmed in cranberry marshes here. Cranberries can be found in northern latitudes including places like Wisconsin, Massachusetts, and Canada, but also locations such as Ukraine, Romania, and even Chile, in the southern hemisphere. Having said that, the United States and Canada together produce about 98% of the world's cranberries. In fact, Tom Lochner, Executive Director of the Wisconsin State Cranberry Growers Association, proudly noted, "More than half the entire world's supply of cranberries are grown on Wisconsin family farms generating $1 billion in state economic impact and providing thousands of local jobs." Readers might be interested to know that the history of the cranberry industry goes back as far as our Wisconsin Constitution in which authors went so far as to provide a leg up to the industry by writing special exceptions into law for water management.
The fresh cranberries we see in the store are Vaccinium macrocarpon, one of a few species that live here, more commonly called large cranberry or American cranberry. They can be found in bogs comingled with Vaccinium oxycoccos (whose common names are small cranberry or northern cranberry). Both have a shrubby habit with trailing diminutive evergreen leaves and pink blossoms with a distinctive shape. So distinctive, in fact, that early Dutch and German settlers called them crane berries…so called for their blossom's resemblance to the head and neck of sandhill cranes. Vaccinium macrocarpon are favored for commercial production as they have slightly larger leaves and produce larger berries; some say with a tart apple flavor.
Cranberries have a very long history, recognized early on as a "superfood." Native Americans collected wild cranberries, utilizing them for their health and medicinal properties and as a dye. Cranberries were a key ingredient in pemmican, a long-lasting staple food of Native Americans that helped to sustain them through the winter. Pemmican was actively traded with settlers and fur traders alike. The name pemmican is derived from the Cree word "pimi" which means fat or grease and this early version of the energy bar was made from dried meat, rendered fat, and fruit.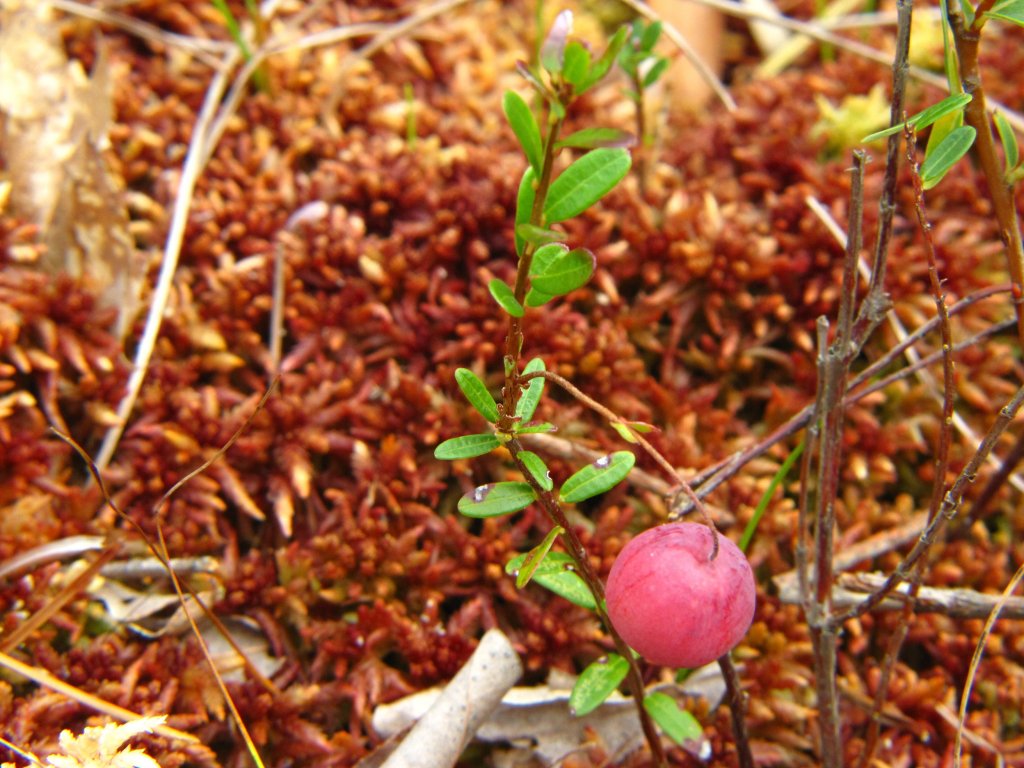 Early European mariners used cranberries to prevent scurvy as it is an excellent source of Vitamin C. Now we know their health benefits go way beyond that. Cranberries are heart-healthy, chock full of fiber, fat free, low in sodium, and provide one of the highest concentrations of antioxidants of any food. Those antioxidants help maintain a healthy immune system, and may play a role in preventing urinary tract infections, gum disease, and reducing buildup of arterial plaque.
The downside to commercial cranberry production is that cranberry farms add nutrients and pesticides to watersheds and require large amounts of water for irrigation and harvest. Today's conservation-minded cranberry marshes employ methods to help reduce impacts. Best management practices include integrated pest management strategies and applying nutrients in accordance with nutrient management plans. Newer marshes are painstakingly engineered to reduce water and energy use from pumping operations and recycle water using closed loop systems. Tail-water recovery ponds can also help by impounding water exiting a bog system to reduce downstream impacts. Most commercial cranberries are harvested in fall by flooding the cranberry beds. Afterwards, a mechanical "egg beater" brushes the berries off. A cross-section of a dissected cranberry shows that they have four air chambers allowing them to float. As they float to the surface the berries are collected using booms to concentrate them for collection and packaging.
If you live near a natural bog you can put on rubber boots or hip waders and take a stroll. Cranberries can be picked in fall, and also in spring after a winter under the snow, when they will be slightly sweeter from fermentation. Having said that, take care when walking on bogs as some areas of the peat may be thinner and you can get a soggy foot or take an unexpected dip. Luckily, berries collected from the bog in the back forty are both 100% organic and they're free, not to mention the fun of exploring the bog.
Thanks to Wisconsin's wetlands, brightly colored cranberries can light up your holiday table in more ways than one. Traditional American meals include fresh cranberry relish and cranberry sauce, or cranberry orange walnut bread. This year, why not take a "walk on the wild side" with a recipe for cranberry/wild rice stuffing. Cranberries can also literally light up your table. You'll need a tall clear glass vase or punch bowl (or even just little jelly jars), one or two packages of fresh whole cranberries, a sprig or two of hemlock, cedar, balsam, or other greenery, and a floating candle or clear tea light. Fill the vase with water – about 1/2 to 2/3 full, add cranberries, trim and submerge the greenery (terminal end down or in a circle) so that it is held in place by the floating cranberries. Add one or more candles, light, and voila!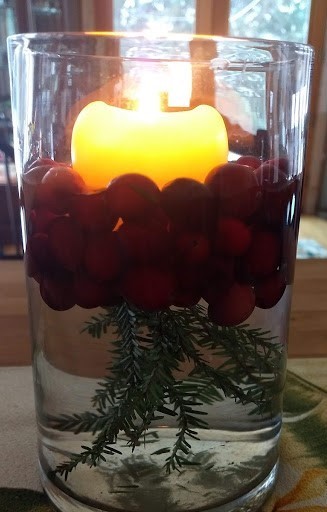 For holiday family fun, string fresh cranberries alternately with popcorn (let unbuttered popcorn sit for a day or so). You'll have a colorful old-fashioned garland to decorate your Christmas tree…after Christmas, hang the garland outside to give birds and other wildlife a tasty treat.