Here's a Title if You're Fishing for A Last Minute Gift!
"Walleye: A Beautiful Fish in the Dark", by Paul Radomski
University of Minnesota Press, 2022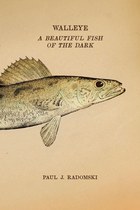 If you are looking for last minute gifts this holiday season for your lake lover, water steward, or angler, here's a great idea. Minnesota fisheries biologist and lake ecology scientist (and Wisconsin native and University of Wisconsin Stevens Point grad) Paul Radomski this past September released his new book, "Walleye: A Beautiful Fish in the Dark."
Not only does the book chronicle the fish itself, Radomski delves into the question of management, something especially pertinent to the species as it faces down climate change related stressors. In a recent interview for the book with Paul Smith of the Milwaukee Journal-Sentinel, Radomski remarked that, "[t]he climactic changes we're experiencing favor fish such as the largemouth bass, not the walleye," adding, "So in many cases, lakes that historically had excellent natural reproduction of walleye just aren't able to anymore and we're going to have to adjust."
Readers may recognize Paul from presentations at the Wisconsin Lakes & Rivers Convention and Advanced Lake Leaders, or his previous work, Lakeshore Living: Designing Lake Places and Communities in the Footprints of Environmental Writers.
Learn more about Walleye, Paul, or order the book from the University of Minnesota Press.
Fish not your thing but still want to read about lakes?
Consider Ted Rulseh's new book about lakes Ripple Effects, which we blogged about previously, or
Check a full range of titles from kids books to how-to's at the Extension Lakes Program's Online Bookstore.
There's lots to read this holiday season, to be sure to check it all out!