State budget process begins
Governor Evers announced his ideas for spending in the state for the next two years; Proposes increased funding for PFAS, but mostly status quo on other water-related programs
By Michael Engleson, Wisconsin Lakes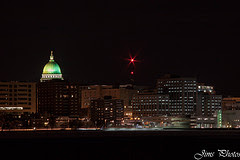 Governor Evers state budget proposal for the next two years features a host of water-related items but limits any major new initiatives to the management of PFAS. He presented his Executive Budget to a joint session of the Wisconsin Legislature last Wednesday evening at the State Capitol. This begins the months long process of passing a comprehensive spending package for Wisconsin for the next two years (the state's fiscal year runs July-June, so the new budget would take effect on July 1 or as soon as it is passed thereafter).
The budget proposal, coming in a year where the state sits on a roughly $7 billion surplus, would provide over $100 million towards testing, monitoring, remediation, and management of PFAS, a suite of thousands of different chemicals emerging as a threat to the safety of Wisconsin's drinking and surface water. In addition the proposal calls for modest funding amounts for implementation of "TMDL's" (plans to clean up impaired watersheds required under the Clean Water Act), grants to producer led councils that teach farmers sustainable agricultural practices to help reduce runoff, and management of wild rice beds in the state, among other proposals. The bill would also raise the annual fee for factory farm ("CAFO") permits by $200 and increase funding for county conservation departments, but not to the levels county conservationists have called for.
For its part, Legislative leadership indicates it will largely ignore the Governor's proposals and build their own budget from scratch, as they have done since Governor Evers first took office. Most of the decision-making power lies in the Joint Committee on Finance of the Legislature, who will begin deliberations on the budget in the coming weeks. Generally, the committee will first hold public hearings across the state to hear citizens' thoughts on what should and should not be in the final bill.
Wisconsin Lakes will continue to monitor the budget process and advise its members of opportunities to influence the bill. Look for more on our priorities and the process in the coming days and weeks.